The Paper Depot Containers
Shred Containers - Recycling Containers
The Paper Depot Shred Containers
For an on-going destruction service. The Paper Depot will supply you with containers that lock and are slotted for the deposit of sensitive material. Containers we have available are:
SHRED CONTAINERS
DIMENSION
CAPACITY
21"W x 16"D x 36"H
80 LBS
19"W x 22"D x 42"H
125 LBS
23"W x 29"D x 42"H
200 LBS
96 GALLON
25"W x 34"D x 46"H
350 LBS
43"W x 29"D x 32"H
600 LBS
175 GALLON
48"W x 31"D x 48"H
700 LBS
74"W x 42"D x 49"H
2,000 LBS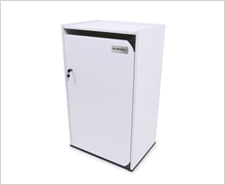 3 YARD Container not shown & does not have slots.
We will also collect storage boxes upon request at your site or any off site facility within the counties we service.
The Paper Depot Industrial Recycling Containers
For a large scale recycling service. The Paper Depot can supply you with a choice of the following containers.
RECYCLE CONTAINERS
DIMENSION
CAPACITY
48"W x 39"D x 38"H
800 LBS
48"W x 42"D x 42"H
1,200 LBS
74"W x 42"D x 49"H
2,000 LBS
The Paper Depot Small Business Recycling Containers
For non confidential office paper we provide in office collection containers. Please call for more information regarding small business weight requirement.